SMOKY MOUNTAIN, TENNESSEE WEDDINGS FOR THE ADVENTUROUS COUPLE
The Magnolia Venue is truly mountain top. Inside or out, you are surrounded with near panoramic views of our breathtaking Smoky Mountains. We love that The Magnolia offers climate controlled inside options with spacious outdoor patio areas as well.  Having the venue wrapped with roll-top garage doors makes your transition onto the outdoor patio a breeze. We are not a cabin, not a barn, not an open field, not a ballroom, we are unique in our space and amenities.
Included Venue Services:
13-hour rental of the entire facility; one wedding per day
Tables + Chairs for ceremony and reception
6-hour Shuttle Service
Vendor recommendations
Venue Seating (included with rental)
100 Chiavari chairs
100 Garden chairs
12 60" round tables
3 48″ round tables
4 6ft rectangular tables
3 8ft rectangular tables

10 High top cocktail tables
Venue Features:
Elegant bridal suite, with deck, private restroom, and vanities
Year-round: manicured lawns, landscaped gardens & amazing mountain views
Portable beverage bars – ability to bring your own alcohol
Prep kitchen with separate service entry 
Bistro lighting on the patio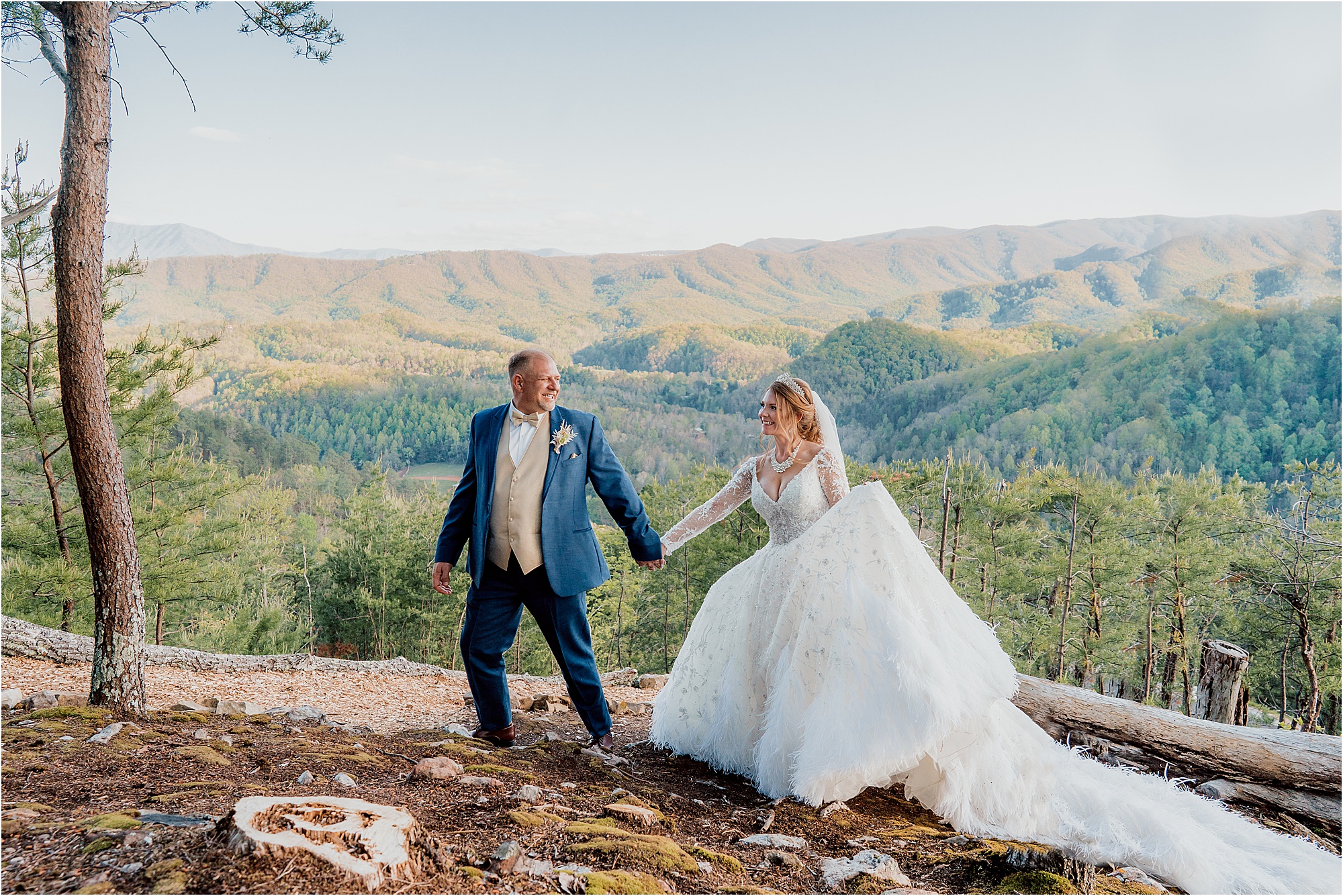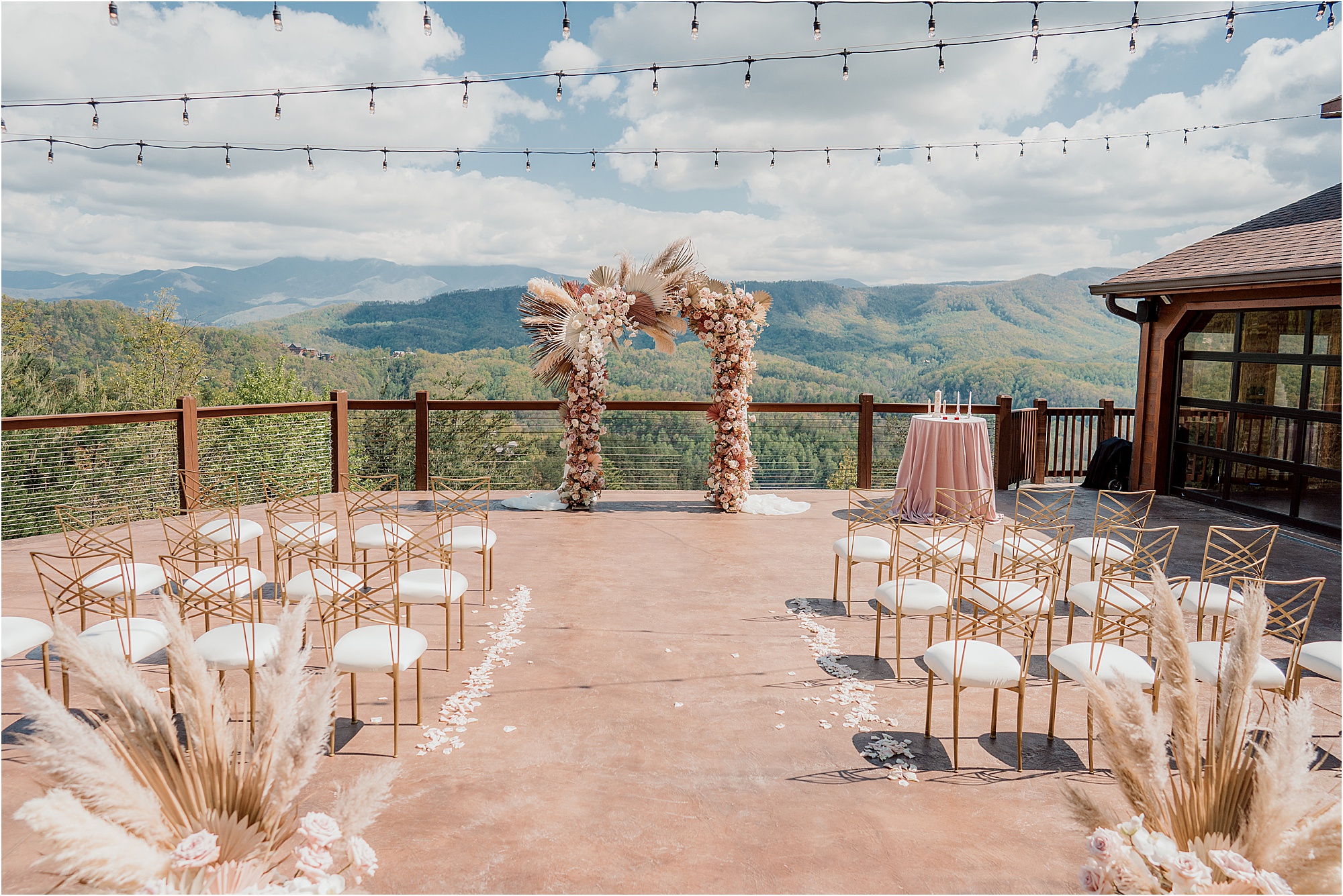 Pricing Variations & Range:  You can expect our venue rental to range from $4,000 to $11,750.  Our venue rental pricing does vary based on day of the week and time of year selected; with Saturdays being our peak days and September and October being our peak months. On average, a full wedding budget is between $20,000 – $25,000 at our venue.
Please tell us more about your event in our inquiry form and we will send along venue and pricing details right away!
Frequently Asked Questions
What is the max capacity of The Magnolia?
The Magnolia can accommodate up to 100 guests.
Are there dressing rooms?
We do have a bridal suite onsite with vanity stations, a private restroom and a private deck for enjoying the mountain views.
How long will we have access to the venue for weddings?
So that you can relax and enjoy the mountain views on your special day your rental period will be 10am – 11pm.
Will there be another wedding the same day?
We love to be able to provide our couples exclusive access to the mountaintop on their wedding day, so for that reason we only host one wedding a day. 
What do we need to know about parking and transportation.
The Magnolia is privately located at the top of a mountain so your guests will park nearby and be escorted to the venue by a professional shuttle service.  There is available parking for your vendors and a couple of family cars.
Are there overnight accommodations nearby?
Yes we are conveniently located only 2.5 miles from the Pigeon Forge Parkway with plenty of hotel lodging as well as several cabin resorts near the venue.
Is The Magnolia pet friendly?
We understand that pets are part of the family and we welcome them here at The Magnolia for your ceremony only!
Do you offer ceremony-only packages?
Because we host one event per day, our fee structure remains the same whether you host a ceremony, reception or both.
Do you require a wedding planner?
Yes, to ensure your day is smooth and stress free we require, at a minimum, a day of planner and we can provide you with our list of favorites.
Is the venue heated and air conditioned?
Yes the grand hall and bridal suite are both climate controlled.
What is the average budget of a couple getting married at The Magnolia?
 In general, we've seen an average budget for a Magnolia Couple around $20,000 – $25,000 for all wedding expenses (venue, wedding planner, catering, music, photographer, etc.). 
Do you offer all-inclusive packages?
We work with some amazing, local wedding planners who do offer all-inclusive packages for our Magnolia couples
How far in advance do your dates book?
On average, our prime dates book about 18 months in advance. If you are more flexible and would consider a weekday date, those dates book closer to 12 months out. 
How soon should I book my vendors?
Just like the venue, our recommended vendors do book quickly. We always recommend starting with your venue, booking a date and then beginning your vendor search not long after! 
Do we have to choose vendors from your preferred vendor list?
With the exception of the required bartenders, your favorite vendors are welcome. We do require that they are properly licensed and insured. For some outside vendors we do require a pre-approval from the venue, so just keep us informed on who you're interested in working with!
Due to insurance and liability reasons, we no longer allow sparklers on property. You can check out some other fun exit ideas on our blog! 
Do we need to schedule a tour or can we just stop by?
We ask that all site visits be scheduled ahead of time. We often have weddings every day of the week so we want to make sure anyone coming onsite is scheduled ahead of time with the venue manger.
How do we reserve a date?
We require a signed contract and a non refundable 50% deposit to secure your date.
Are outside snacks and trays permitted?
Yes you are welcome to bring food and beverages for breakfast and lunch.  Event meals however must be provided by a licensed, approved caterer. 
What are the rules for alcohol?
You are permitted to bring in your own alcohol, we just require you to use one of our approved bartenders (Elite on the Rocks or Single Barrel Events).
Do you allow shots at the bar?
It is the policy of the venue and our bartending companies that we do not allow shots at our events. It is our goal to provide excellent service, while still serving responsibly!
Yes, candles can be a beautiful addition to your décor. For safety, we just ask that they be contained in a glass container with the wick covered.
The Magnolia team will set up all tables and chairs inside the Grand Hall per the floorplan given. The ceremony chairs for the patio are typically set up by your wedding planner the day-of.
What does clean-up entail?
At the end of your event, we simply ask that you remove personal belongings that you have brought in and any rental items.  The venue is professionally cleaned after every event.
When can our rental company drop off and pick up?
We often host many back to back weddings, so we ask for drop off and pick up to be that same day. Please keep in mind, there is typically an additional fee for rental companies to pick up/drop off on a weekend date.
DO YOU require event insurance?
We do require our couples to purchase event insurance. Event insurance protects you from liability during your event that is a result of bodily injury, personal injury or property damage
do you have security at the venue?
We do provide a safety officer for our weddings. They are onsite to provide added support and safety for your guests and vendors.
What if we pick a vendor who has not worked at your venue before?
Choosing the right vendors for your wedding day is s0 important! Not only do we want to provide you with a beautiful space, but we want to make sure you're connecting with great vendors who are familiar with our unique space. Make sure any vendor you're choosing, has worked at or done a site visit at the venue ahead of your wedding day! 
After looking through our website and all the venue details, we would recommend reaching out to schedule a virtual tour. We can't wait to meet you!